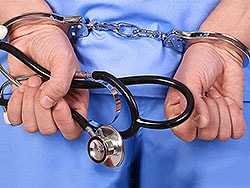 An ENT doctor has been sentenced to 25 years in prison and ordered to repay $4.7 million to Medicare after a federal jury found her guilty of 20 criminal charges, including endangering patients' health by reusing single-use surgical devices, stealing their identities, and defrauding Medicare, the Department of Justice announced.
Federal authorities allege Anita Louise Jackson, MD, performed nearly 1500 balloon sinuplasty surgeries on more than 900 Medicare patients at her three North Carolina practice locations from 2011 to 2018.
She was the top-paid Medicare provider of the procedure in the United States at points during this period. Still, between 2012 and 2017, she purchased just 36 single-use dilation tools needed to perform such surgeries, despite billing Medicare for hundreds of balloon sinuplasty services.
Instead of providing a new device for each patient, Jackson reused them on multiple patients without their knowledge or consent, sometimes only washing the instruments with soap and tap water between procedures, according to court records.
The sentencing comes after a 3-week trial in January during which Jackson admitted that she could have purchased new devices for every patient but chose not to, which likely saved her more than $1 million, officials said.
Michael Easley, US attorney for the Eastern District of North Carolina, said in a statement that by repeatedly risking infection in the name of profit, Jackson's "blatant disregard" for her patients' well-being led to her conviction on multiple federal charges.
Jackson advertised endoscopic chronic sinusitis treatment as a "free sinus spa" service, leading patients to believe that Medicare covered the service in full or for just a small coinsurance payment. However, Medicare only covers the procedure at 80%. By not disclosing Medicare beneficiaries' out-of-pocket costs, up to $1500, authorities said the scheme allowed Jackson to collect millions from Medicare that she might not have if patients had been aware of the true costs.
The doctor did not create office visit records or operative reports for some patients. She also fabricated medical records to deceive Medicare auditors, including backdating documents and forging patient signatures.
Joan Krause, JD, a professor at the University of North Carolina at Chapel Hill School of Law, told Medscape Medical News that the many charges against Jackson likely contributed to her long prison sentence. Krause was not involved in the case.
"Each of the laws violated, especially mail fraud, carries a fairly hefty minimum sentence, so with all the convictions stacked up, this doesn't strike me as completely out of bounds," she said, adding that some of the sentences may run concurrently.
According to the indictment, mail fraud carries a maximum prison term of 20 years. Failure to collect patient coinsurances resulting in illegal remuneration carries a 10-year sentence with 5 years for conspiracy charges and making false statements. The use of adulterated devices and aggravated identity theft can add 3- and 2-year sentences, respectively.
Jackson was previously involved in a lawsuit regarding overpayments with Blue Cross and Blue Shield of North Carolina. She filed a countersuit against the insurer before the two parties eventually settled out of court.
The final judgment on restitution will be issued in 90 days, giving Jackson's patients time to present claims of loss to the court stemming from the charges.
Steph Weber is a Midwest-based freelance journalist specializing in healthcare and law.
For more news, follow Medscape on Facebook, Twitter, Instagram, YouTube, and LinkedIn.
Source: Read Full Article