Exposure to extreme temperatures as a form of therapy and recovery has become fashionable among athletes and health-conscious types, but is it all hot air?
Ben Seymour was a professional athlete, with the Western Force rugby union team, when he was first introduced to ice baths as a way to relieve the inflammation from the constant collisions.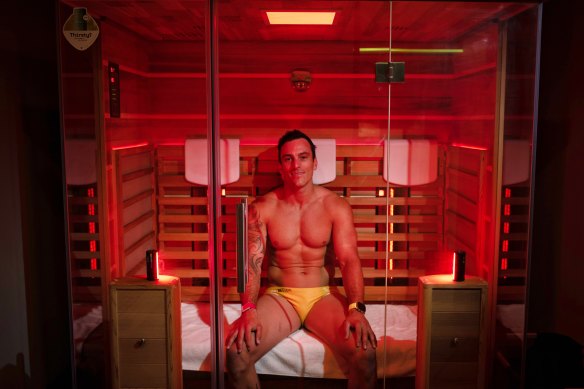 Ben Seymour believes infrared saunas have helped him with recovery and performance.Credit:Nick Moir
"Backing up training with two-to-three sessions a day was pretty tough … it helped with that too," says the 32-year-old.
Then several years ago, following ankle surgery, he began looking online for ways to speed up his recovery process. His attention turned to infrared saunas.
Seymour, who is now an ultra-endurance athlete, was intrigued by the suggestion that the heat stimulated growth hormone, improved blood flow, reduced muscle soreness and increased cardiovascular health.
He also felt calm when he sat in the sauna. It was a chance to disconnect and sit still. When he experimented with 'contrast therapy' pairing the ice baths with the hot saunas, he felt even better: "I always felt so much more fresh afterwards."
Saunas have been used in different cultures for thousands of years to improve skin, people's physical and spiritual health, as well as for relaxation. The Finnish have saunas, while the Sentō and mushi-buro are used in Japan, the hammam in Turkey, and the sweat lodges in native America.
But, deliberate heat exposure via infrared saunas is a relatively new trend in Australia, driven by a growing interest in health and wellness generally, as well as advocates with a cult-like following including Andrew Huberman, Joe Rogan, 'Iceman' Wim Hof and Laird Hamilton. Increasingly, fancy people are putting infrared saunas in their fancy homes, offices are installing them as a way to lure workers in, and recovery clinics offering hot and cold 'contrast' therapy are popping up around the country.
Seymour is now the franchisor of six Recovery Lab clinics around Australia, with another six set to open, which offer infrared saunas, ice baths, as well as other recovery and relaxation modalities. The spilt of customers, he says, is 60/40 female to male and they range in age from 24 to 50. While he opened the clinics initially with athletes in mind, the typical customer is someone who is health conscious and looking to perform in life and work as well as fitness.
Inside Rimba Sweat in Sydney.
The female-to-male split is similar at Sydney's Rimba Sweat, which feels more like an upmarket day spa than somewhere you will walk out of sweaty and red-faced. That was the intention, says co-owner, Clinton Wright.
"We never wanted a sporty style aesthetic," says Wright, whose clients include those who come for the purported skin benefits of sauna, others who come to relieve joint pain and some who come to have business meetings, social catch-ups or to recover from training. "The aesthetic is more about wellness and escape."
It's certainly a far cry from the grungier communal steam and sauna rooms I've been to in the past. Here, I emerge from one of the private suites after cycling through several rounds in the 10-degree plunge pools (I cheat by keeping my toes out of the water) followed by 10 minutes in the 90-degree Finnish sauna, relaxed, cleansed and invigorated. I feel great. In a way, that's all that matters. The science is simply the validation for doing something others might see as crazy. But what does the science say?
The claims about infrared, contrast therapy and heat as therapy are vast: contrast therapy supposedly flushes and cleans the blood; infrared boosts growth hormone which aids recovery and performance; it provides a more detoxifying sweat and hastens injury recovery because the infrared heat penetrates the muscles; it improves cardiovascular and skin health; it relieves pain; and it activates brown fat and our metabolism.
Professor Chris Maher, the director at the Institute for Musculoskeletal Health at the University of Sydney, is sceptical.
"We have all these fads all the time," he says.
Maher does say there is evidence that heat exposure, like saunas, helps with pain relief. "But claims of other health benefits for things like heart function, immunity, recovery etcetera are based on beliefs and anecdotes, not firm science."
For example, the physiological rationale for why heat provides more widespread health benefits is based upon mistaken beliefs about heat and/or how the body works, he says: "Infrared is a superficial form of heat so claims for deeper and faster muscle healing do not fit with the science."
Infrared heats the body with light instead of the radiant hot air from a stove. Infrared means the room is typically not as hot, which means some people feel comfortable staying in for longer; however, there is little good evidence it is any better than a regular sauna.
What short bouts of sauna may do, however, is increase blood flow and improve endothelial function in the arteries and other blood vessels, says Tony Blazevich, a professor of Biomechanics from Edith Cowan University.
This shows promise in reducing arterial stiffness and lowering blood pressure.
Additionally, saunas may trigger an increase in blood volume (especially plasma volume), which helps transport oxygen to the muscles during physical activity as well as to the tissue that needs it (skin, internal organs), Blazevich says, explaining the appeal of saunas for athletes. "And there is some evidence for reduced sympathetic activity (reduced chronic stress) and improved cardiac control (higher heart rate variability)."
Not all heat is good heat though and steam baths and saunas come with risks and, in countries where they are popular practices, there have been deaths.
Adds Blazevich: "These 5 to 30 minute, once-daily type exposures in a controlled environment are very different to prolonged exposures in uncontrolled, work environments, the latter of which can be associated with negative health outcomes."
Another caveat, he says, is that many of the benefits of heat as therapy are similar to exercise, so they probably work best in people who don't already exercise.
"Rather than sitting in a sauna you would be better off following the Heart Foundation's five simple steps for heart health: eat a healthy diet, spend more time being active, be smoke-free, understand and control your cholesterol and blood pressure," suggests Maher.
But if these practices make you feel good, which for many they do, then why not?
For those like Wright and Seymour, this is the tip of the iceberg for the heat trend.
"People are spending a lot more time on their preemptive health and instead of just going to the gym every week, then incorporating the wellness part of it and recovery," says Wright. "I think it's only going to get bigger."
Make the most of your health, relationships, fitness and nutrition with our Live Well newsletter. Get it in your inbox every Monday.
Most Viewed in Lifestyle
From our partners
Source: Read Full Article