Physicians in Washington State will soon be able to buy insurance to cover the legal costs associated with providing abortion care in the post-Roe era.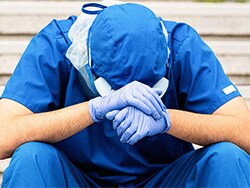 The optional coverage, approved by the state's insurance commissioner, will be available January 1. It's offered by Physicians Insurance, Washington's largest malpractice insurer.
Physicians nationwide are struggling to navigate their legal liability in providing reproductive health and abortion care, in person or by telehealth, to patients from states that criminalized abortion after the Supreme Court overturned Roe v. Wade in June.
Abortion is legal in Washington State, but doctors there conceivably could face criminal charges for treating out-of-state patients amid a morass of conflicting state abortion laws.
Traditional malpractice insurance typically does not cover claims arising from criminal charges.
The new insurance offering is an "add-on" rider that provides up to $250,000 in coverage to reimburse a covered provider for the legal costs spent successfully defending against criminal charges involving direct patient care, including abortions.
A similar rider has been approved by state officials in Idaho, according to Omaha-based Physicians Insurance.
The rider could cover costs of fighting an arrest or indictment, an extradition request, or criminal or regulatory investigations, including those conducted by a state medical board.
"As states like Texas threaten legal and criminal action against physicians, the [Office of the Insurance Commissioner] is determined to counter this by assisting medical malpractice insurers wherever we can," Washington's insurance commissioner, Mike Kreidler, said in a press release about the new coverage.
Kreidler's action is "very good news," said Aziza Ahmed, JD, MPH, a professor at Boston University School of Law.
"It is possible that some physicians will be prosecuted, and [this ensures] that they are able to provide care with the reassurance that they will not fall into financial crisis," Ahmed said.
Mika Sinanan, MD, PhD, president of the Washington State Medical Association and a surgeon at the University of Washington Medical Center in Seattle, said the Association "commends Physicians Insurance on acting quickly to what appears to be a concerning shift in the medical-legal community: accusations of criminal actions that come from providing direct patient care, including performing abortions.
"We fear that this shift to criminalize patient care could have repercussions on the treatment and care physicians provide," Sinanan said.
Robin Coggins, a Physicians Insurance spokesperson, told Medscape, "We believe this coverage will have a positive impact for physicians.
"Since the Dobbs decision," Coggins said, "we have all heard the stories about physicians and hospitals providing obstetric care struggling to reconcile the criminal law with the professionally accepted standard of care regarding the treatment of ectopic pregnancies" and similar procedures.
Insurance Protects Physicians Facing Criminal Charges

Abortion is illegal in 13 states and is severely restricted in 10 states, according to Planned Parenthood.
The coverage, which isn't available as a standalone product, is available as an endorsement to Physicians Insurance's medical professional liability or hospital liability policies. The cost is $150 per year for solo policies, $2400 for corporate policies with an entity limit, and $4000 for hospital liability policies, Coggins said.
The insurance product was designed to comply with most states' insurance regulations, and its pricing is subject to regulatory approval, Coggins said. "Our hope is other states will approve the coverage after completing the appropriate regulatory review."
Ahmed said that other states should take similar action, but those decisions will depend on the local political context.
In Massachusetts, where Ahmed teaches, Governor Charlie Baker issued an executive order that bars the state, where abortion is legal, from cooperating with other states' extradition attempts in response to legal reproductive health services delivered in the state, reported GBH News. Baker's order also protects Massachusetts doctors from losing their licenses or being sanctioned professionally because of out-of-state charges.
University of Idaho and Boise State University employees were recently advised against referring patients for abortion or emergency contraception, reported the Associated Press. This follows passage of an Idaho law that leaves individuals who refer patients to an abortion provider or offer information about emergency contraception open to felony charges.
For more news, follow Medscape on Facebook, Twitter, Instagram, and YouTube.
Source: Read Full Article