The patient safety record of US hospitals improved over the past decade, according to the 10th annual report from the Leapfrog Group, a national nonprofit organization focused on healthcare safety and quality.
For five outcome measures, the safety improvements saved an estimated 16,000 lives during the 10-year period, the report said. These included two "never" events that both declined by approximately 25%: incidents of falls and trauma, and incidents of objects unintentionally left in a body after surgery.
There were also decreases in three healthcare-associated infections, including:
Methicillin-resistant Staphylococcus aureus (MRSA), which decreased by 22%

Central line-associated bloodstream infection (CLABSI), which fell by 43%

Clostridioides difficile infection (C Diff), which declined by 8%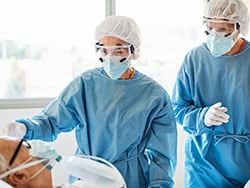 The patient safety record of US hospitals improved over the past decade, according to an annual report from the nonprofit The Leapfrog Group.
"Never in history have we seen across-the-board improvement in patient safety until this last decade, coinciding with the history of the [Leapfrog] Hospital Safety Grade," said Leah Binder, president and CEO of the Leapfrog Group, in a news release. "We salute hospitals for this milestone and encourage them to accelerate their hard work saving patient lives."
During the past decade, the report noted, hospitals have widely adopted technology and staffing strategies that can protect patients from preventable harm and death. Leapfrog cited a nearly sevenfold increase in the adoption of computerized provider order entry, which can reduce medication errors by more than 40%.
However, federal health officials separately have reported that the pandemic may have eroded some of those gains.
The Leapfrog report also cited a JAMA study published in July that found that the rates of preventable adverse events in hospitalized patients — including adverse drug events, hospital-acquired infections, postprocedure events, and hospital-acquired pressure ulcers and falls — significantly declined between 2010 and 2019.
That study pointed to specific decreases in the rates of adverse events for patients admitted for myocardial infarction, heart failure, pneumonia, and major surgical procedures. There were also significant drops in adverse events for all other conditions, the study found.
Quality improvement efforts targeting those four conditions might have partly accounted for the lower rates of adverse events in patients with the conditions, the study observed. But "similar interventions did not occur for most of the conditions represented in the 'all other conditions' group," it said.
In a 2019 report by the US Agency for Healthcare Research and Quality (AHRQ), the agency noted that from 2000-2017, there had been gains in nearly two thirds of patient-safety measures in acute, post-acute and ambulatory care. Hospital safety improved on nine metrics and was unchanged on three. For example, from 2014-2017, the number of some hospital-acquired conditions, including adverse drug events and C difficile infections, dropped about 20%.
However, in an article this past February, officials of the Centers for Medicare & Medicaid Services (CMS) said they had observed deterioration on multiple patient-safety metrics since the start of the pandemic. For example, central line infections, which had dropped by 31% in the five years before the COVID-19 outbreak, jumped 28% in the second quarter of 2020, compared with the prior-year period.
Commenting on these developments, the CMS authors said, "The fact that the pandemic degraded patient safety so quickly and severely suggests that our health care system lacks a sufficiently resilient safety culture and infrastructure."
For more news, follow Medscape on Facebook, Twitter, Instagram, YouTube, and LinkedIn
Source: Read Full Article