When you hit the gym, are you looking to track your progress, or just blindly going through the motions? If you want real results, you need to understand what you're doing.
What you're wearing on your wrist might determine just how well you understand your workout. Exercising in the 21st century means that you can depend on more than just the scale and the mirror to track your progress. Technology has given us access to more detailed data than ever before, directly on our wrists in the form of fitness trackers and, in an even more powerful form, smartwatches. Once you head outside, connected or standalone GPS systems can help you stay on your route, and some advanced devices can even help you identify health issues like AFib to prevent problems before they even happen.
Whether you want a full-blown smart device for an immersive wearable experience or just a fitness-oriented timepiece to record your laps and splits, we've rounded up some of the best watches for every training regimen. The gadgets will track your workouts, help you regulate your sleep, give you active training tips—and look damn good on your arm all the while.
Apple Watch Series 6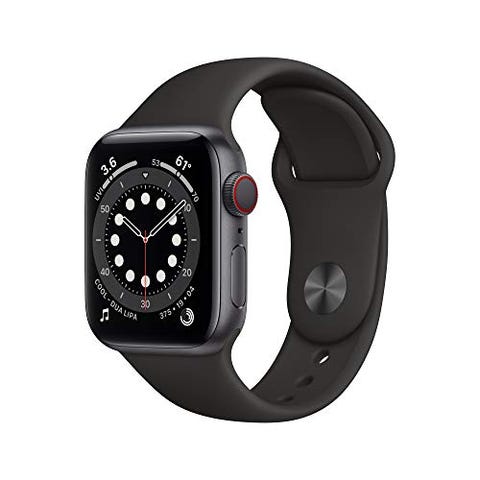 There's not much more to say about Apple's signature smartwatch that hasn't already been said—but we'll rave about it a little more. The top wearable on the market got better in its sixth edition, with a new blood oxygen sensor and sleep tracking, seamless connectivity to iPhone, and new Loop bands that are more comfortable than you'd expect.
Key Features: new blood oxygen sensor, sleep tracking, GPS, water resistance 50 meters, smartphone alerts, heart rate tracking, music storage, optional cellular capabilities.
Garmin fēnix 6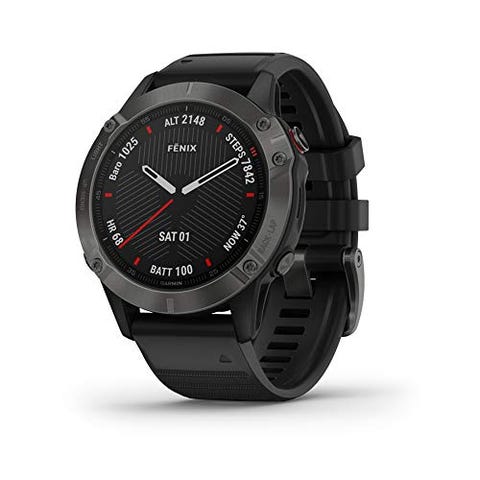 This model from Garmin truly does it all (as you would hope for the premium price). Well-known for its GPS capabilities, this model comes with preloaded maps to help navigate the outdoors. With its enhanced estimated wrist heart rate with Pulse Ox technology, you can monitor both your sleep and heart rate while working out. And with its advanced training features like PacePro, you can track your pace and your environmentally adjusted VO2 max.
Key features: long battery life, preloaded maps, pace guidance, sleep monitoring
Samsung Galaxy Watch Active 2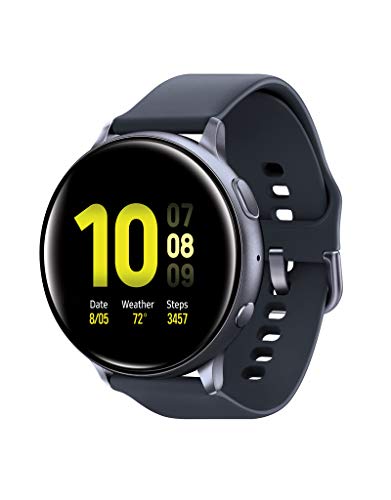 No iPhone? No problem.
This smartwatch boasts a bigger screen than previous models from Samsung, along with a design that works for the office and the gym. The watch automatically tracks seven exercises, while you can manually log "dozens" of others yourself. That's not to mention that you can track your sleep, monitor your heart rate, and more.
Key Features: Military grade durability, all-day battery, IP68 water protection, optional cellular capabilities, NFC payment
Fitbit Sense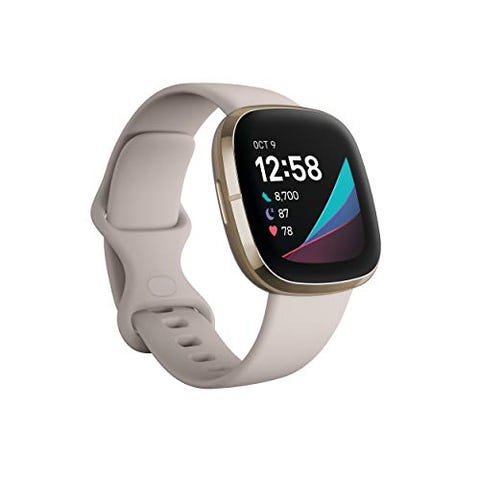 The Fitbit Sense has the first ever electrodermal activity (EDA) sensor in a wearable, a function used to measure the body's response to stress. The Sense also boasts a new ECG app to assess the wearer's heartbeat to detect abnormalities known commonly as atrial fibrillation, or AFib, while a new on-wrist temperature sensor tracks changes during sleep to monitor trends over time that could help to catch problems early. The device was created using "a new design language" for the brand, with a rounded-corner square watch face that is sleek and functional.
Key features: EDA monitor, heart rate monitor, long battery life, on-wrist temperature sensor, sleep tracking
Garmin Forerunner 745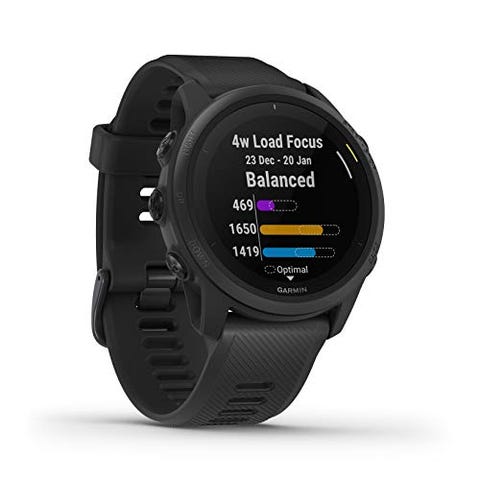 The Garmin Forerunner 745 has top notch fitness tracking, a solid battery life, and also comes with suggested workouts for a smart training plan. The preset watch face provides uncluttered essential data at a glance. Hardcore exercisers will especially appreciate the 745's fixation on high-level data. The training load stat uses EPOC data to provide a measure to help understand the effects of the volume of your workouts.
Key features: GPS functionality, Garmin Pay, built in sports apps, heart rate, VO2 max
Garmin Venu Sq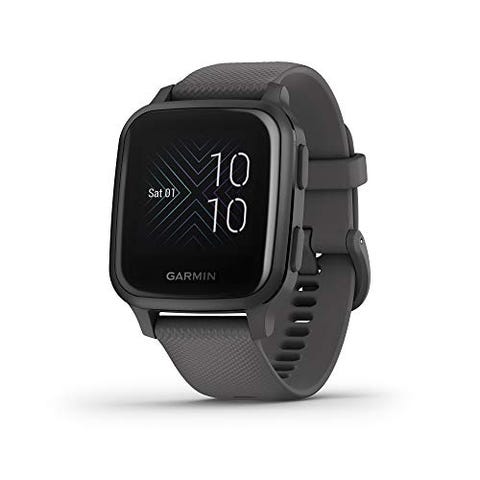 With a 1.3-inch color LCD touchscreen protected by Gorilla Glass 3, the Venu Sq is a bit larger than more simple fitness trackers. It has all the information you'd come to expect from a smartwatch such as heart rate and step counts, but also proprietary features like Body Battery, a score that monitors your energy levels throughout the day to help you optimize when to rest and when to get active. It has a robust suite of specific fitness activity trackers for workouts like running, cycling, and swimming (it's waterproof up to 5 ATM) to more specialized activities like stand-up paddleboarding, cross-country skiing, and yoga.
Key features: GPS, Body Battery, fitness activity trackers, long battery life
Apple Watch SE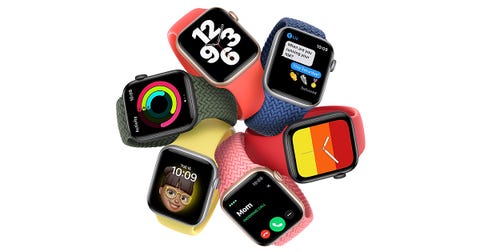 The Apple Watch SE looks nearly identical to the Series 6, and shares most of its features, too (minus the highest level sensors to measure blood oxygen levels and ECG). But you'll get everything else that makes the Apple Watch great: new fitness tracking features, sleep tracking, and automatic hand wash detection.
Key features: expansive Retina display, GPS, high and low heart rate notifications, water resistant 50 meters
Fitbit Versa 3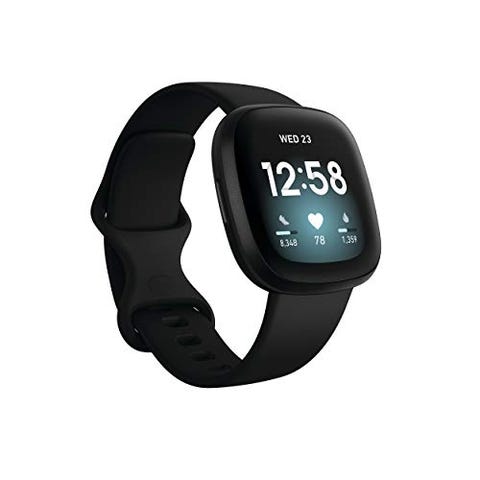 Fitbit's Versa 3 is a solid option for anyone, especially since the device brings built-in GPS tracking to the Versa line—and its price, which is much lower than some of its contemporaries at $230, make it even more compelling. You'll get top-notch activity tracking, sleep tracking, an always-on display, and more.
Key Features: NFC pay, water resistance, Amazon Alexa and Google Assistant, six-day battery life
Polar Vantage M Fitness Watch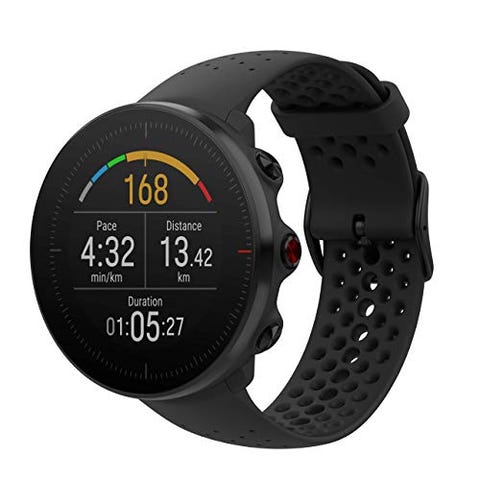 This smartwatch from Polar is built for just about any activity you want to track (the watch offers over 130 different sport profiles), but it stands out most as your go-to running companion with its Smart Coach feature. You can also keep track of sleep, heart rate, your training load, and more.
Key Features: GPS, Polar Flow platform compatibility, phone notifications, water resistant
Garmin Venu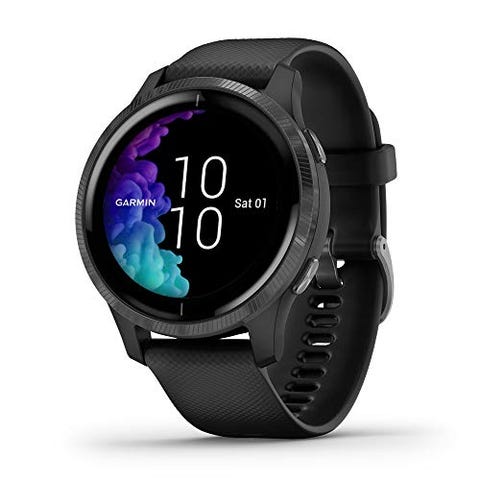 This super smartwatch tracks more than just your activities—you can also monitor your energy, stress levels, hydration, and respiration, along with more standard measures like heart rate. But the watch doesn't slack on the fitness tracking, with built-in sport modes and on-screen workouts, and a coaching feature you can use when you need a boost.
Key Features: GPS, on-device payment, coaching, 6-day battery life, water resistance
Matrix Powerwatch 2 Premium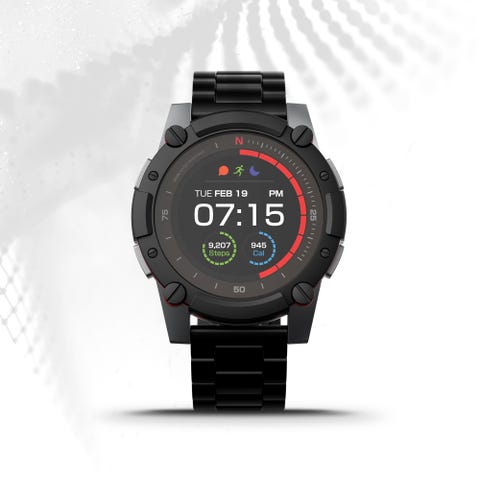 Sick of lugging around a charging cord and taking your watch off every night to power up? So were the folks at Matrix Industries, who turned that frustration into inspiration and designed a thermoelectric smartwatch that uses your body heat to work. The Premium Powerwatch packs in all the bells and whistles you'd expect in a premium smartwatch (GPS, smart notifications, heart rate monitor) without ever needing to charge up.
Key Features: thermoelectric and solar charging, GPS, sleep tracking, 200m water resistance, third-party app integration
G-Shock GBA800 Training Timer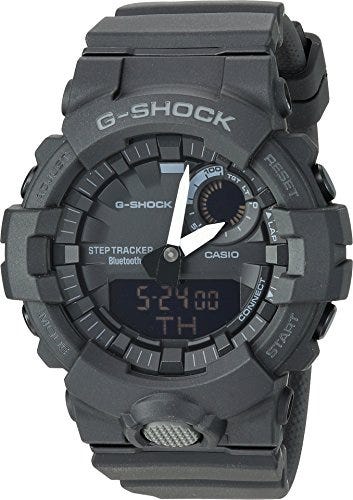 If the reams of data available on a smartwatch screen are too much for you, you'll love the simplicity offered by this chunky analog watch (there's a digital clock, too). The durable, large face gives you the time, the ability to set timers, and your step count — and that's about it. For more smart features, you'll have to check out the connected smartphone app.
Key Features: shock resistant, 200m water resistant, 3-axis accelerometer, countdown timer
Download the Beginner's Guide to Strength Training and use your new fitness watch to track these workouts.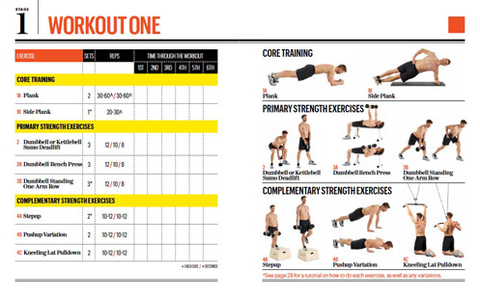 Buy Now
Polar M430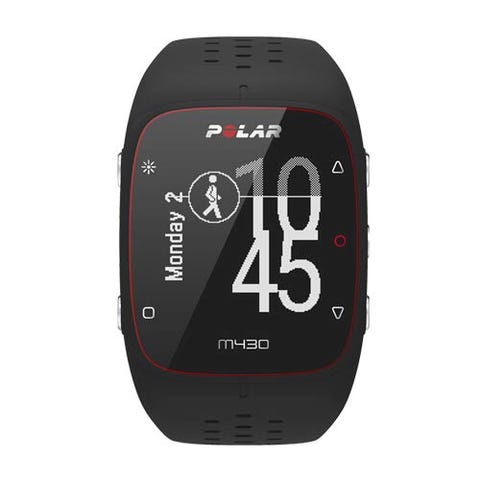 Personalized coaching is the Polar M430's specialty. Sync this wristwatch with Polar Flow (the company's free app or online web service) to use the running program feature, which allows you to choose whether you're training for a 5K, 10K, half-marathon, or marathon. You'll get a customized training plan on your wrist, tailored to your level and goal. The built-in GPS and heart rate sensor allow you to analyze your metrics closely, and it tracks sleep, too.
Key Features: wrist-based heart rate, all-day tracking, GPS, smart coaching, running program, sleep tracking, water resistant
Garmin Forerunner 35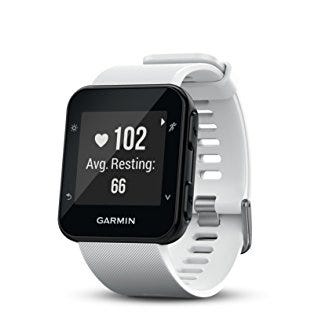 This basic GPS-capable watch is ideal for runners. The tracker offers standard smartwatch features like smart notifications and a connected app, but the real attraction is the ability to track workouts without needing to bring a phone along for the run. Garmin Connect, the company's online fitness community, can give wearers an opportunity to socialize and compete with other users, too.
Key Features: GPS, all-day tracking, built-in heart rate monitor, smart notifications, 9-day battery life
Timex Ironman GPS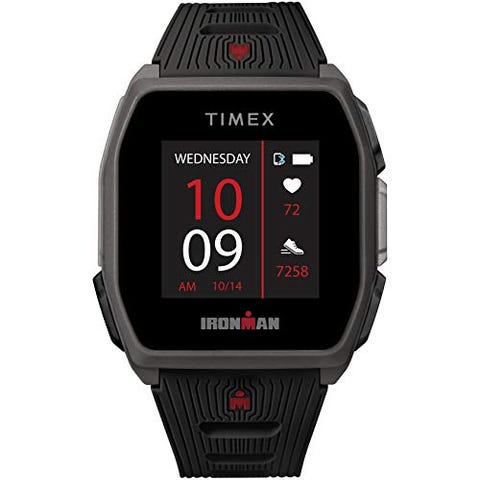 If you're training for a race, the interval timer on this watch will help you work on your speed — and that's all. You won't get distracted by smart notifications or apps with this simple digital tool. The large display makes it easy to check on your lap or split times mid-run, and it provides hydration and nutrition alerts as well.
Key Features: touch-screen enabled, interval training timer, hydration alerts
Suunto 5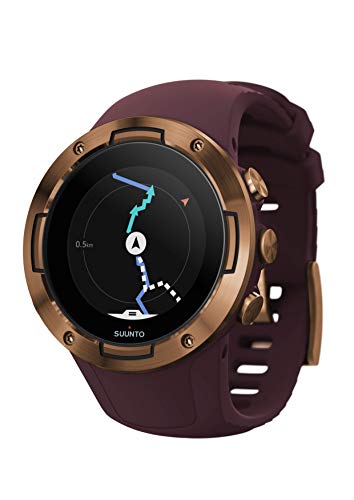 Need some more features on your wrist to take on any outdoor adventurer? This beefed-up yet compact smartwatch from Suunto has its own GPS capabilities, along with intelligent battery life modes the company claims could last up to 40 hours per charge, if you take advantage of the proper settings.
Key features: intelligent battery modes, stress and recovery scores, fitness level tracking, built-in heart rate monitor
POLAR Grit X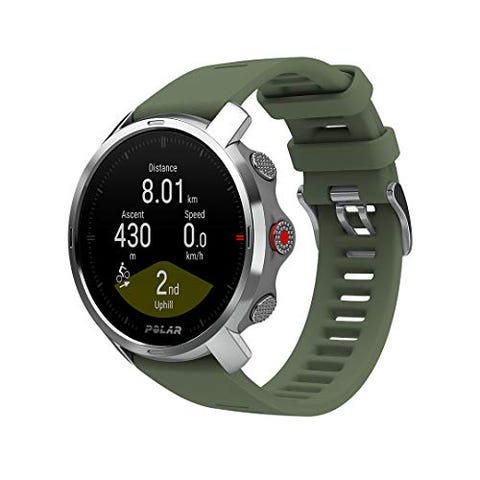 This Polar model is built for the rugged outdoors and has military-level durability. It is U.S. Military standard 810G passed for extreme temperatures, drop, humidity and water resistance (up to 100 meters). It also has real-time turn-by-turn route guidance to keep you on the right track and safe while exploring or working out in new terrain. It also comes with built-in GPS, a compass and altimeter.
Key features: durability, turn-by-turn guidance, GPS
Suunto 7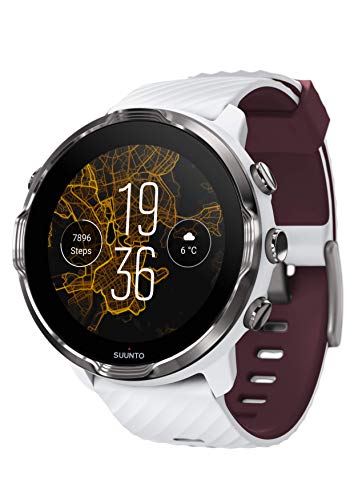 This Suunto model is perfect for the all-around athlete. It comes with 70+ sport modes, from running and cycling to swimming and skiing. It provides detailed training insights, and is also compatible with other sport apps, including Strava, Endomondo, and TrainingPeaks. And it's also equipped with GPS, maps, barometer and wrist heart rate sensors.
Key features: sport modes, heart rate monitor, GPS, maps
Source: Read Full Article