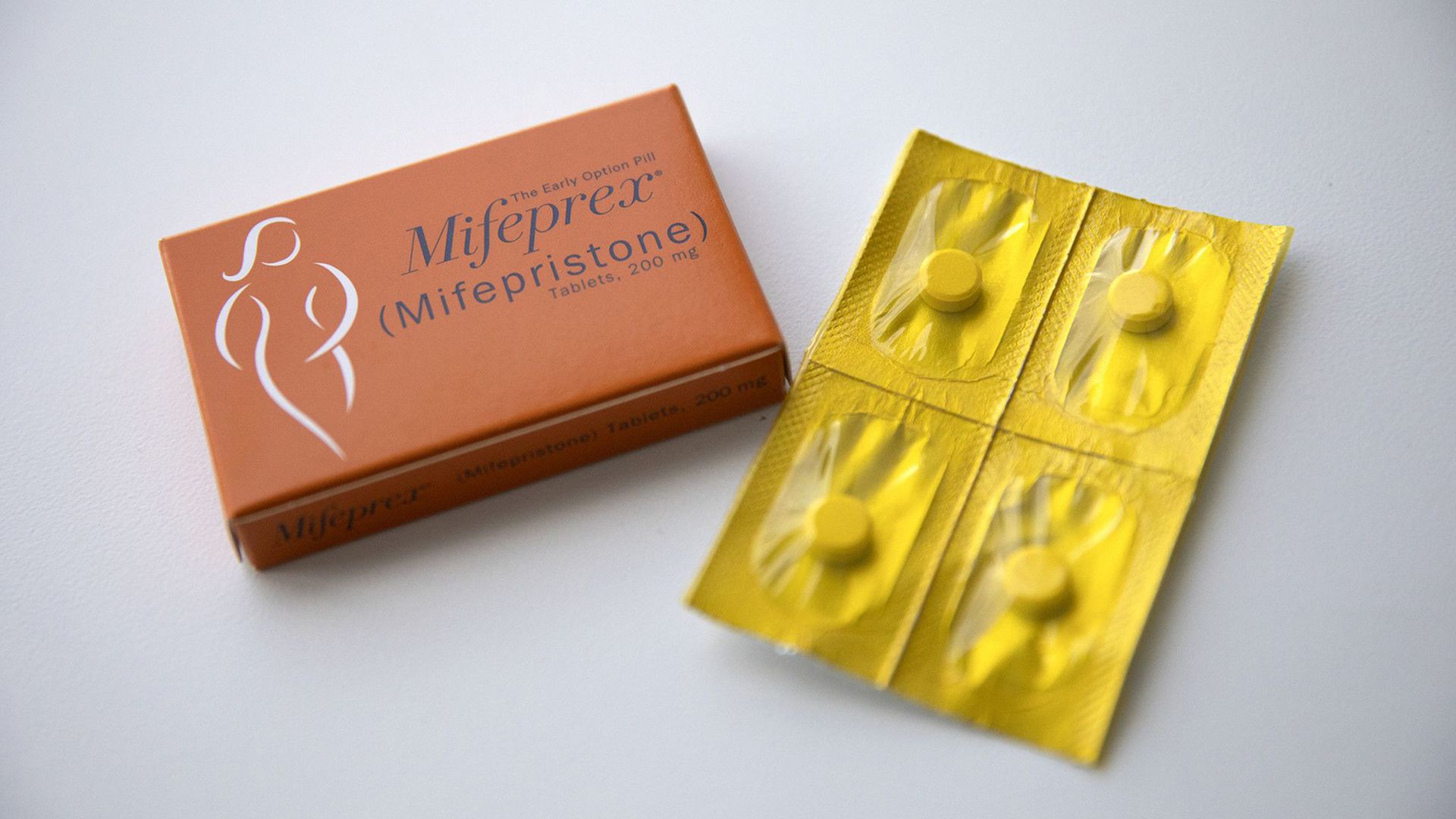 Mifepristone and misoprostol pills as displayed at a Carafem clinic for medication abortions in Skokie, Illinois. Photo: Erin Hooley/Chicago Tribune/Tribune News Service via Getty Images
Wyoming became the first state to ban abortion pills this week after Gov. Mark Gordon (R) signed the controversial bill into law on Friday.
Why it matters: The demand for abortion pills has surged since the Supreme Court overturned Roe v. Wade. The new law also comes as the nation awaits a ruling from a federal judge in Texas who could suspend the FDA's approval of a widely-used abortion pill.
Medication abortion accounted for more than half of all U.S. abortions in 2020, according to the reproductive policy nonprofit Guttmacher Institute.
Abortion pills are frequently prescribed via telehealth and mailed to patients, allowing abortion seekers to circumvent state restrictions on the procedure.
Driving the news: The new law bans the use of abortion medication with a few exceptions, including in the treatment of a "natural miscarriage according to currently accepted medical guidelines," according to the text of the legislation.
Any physician or person who prescribes, distributes or otherwise provides abortion medication could face prison for a maximum of six months and a fine of up to $9,000.
Women who attempt chemical abortions would not be criminally prosecuted.
Gordon has said that legal challenges are expected and that "this question needs to be decided as soon as possible so that the issue of abortion in Wyoming can be finally resolved," AP reports.
His office did not immediately return a request for comment.
What they're saying: Gordon's decision to sign the bill is "disappointing," Antonio Serrano, ACLU of Wyoming advocacy director, said in a statement.
Deeply private, personal and unique decisions about abortion should be "made by pregnant people in consultation with their doctors – who should be able to treat their patients according to their best medical judgment."
"A person's health, not politics, should guide important medical decisions – including the decision to have an abortion," Serrano added.
Don't forget: Wyoming's trigger abortion ban is currently tied up in courts after health providers filed a lawsuit last July challenging the law's constitutionality.
The big picture: Wyoming isn't the only state moving to outlaw or restrict abortion pills.
Fifteen states already restrict access to medication abortion, including six that require an in-person visit with a physician, per the Guttmacher Institute.
What to watch: In Texas, District Judge Matthew Kacsmaryk, a Trump appointee who openly opposed Roe v. Wade, is poised to order the FDA to temporarily withdraw its approval of mifepristone, one of two drugs used to end pregnancies, after holding a closely watched hearing this week.
Doing so would effectively lead to a nationwide ban on medication abortions.
Source: Read Full Article